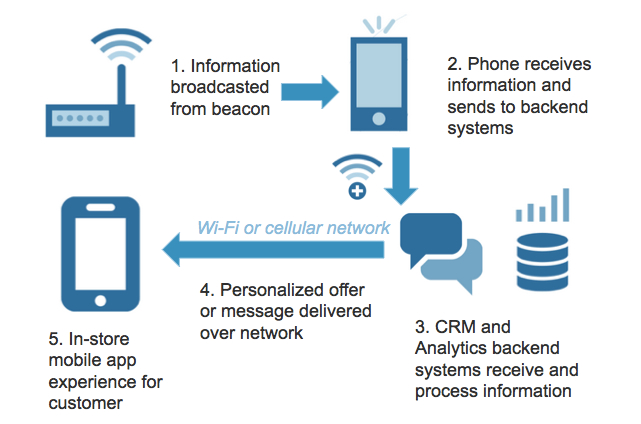 Tecnologia iBeacon: la lista dei desideri a portata di mano
---
Immagina di camminare in un punto vendita GDO o nel negozio in cui solitamente fai la spesa.
Hai fretta, è tardi, sei in ritardo, i bambini scappano ovunque.
Non ricordi tutto quello che devi acquistare. Un classico. Qualcosa l'hai scritto su un foglietto, ma chissà dov'è, qualcosa d'altro sulle note dello smartphone. E il resto?
Arriva un messaggio sul tuo smartphone. Il tuo negozio ti saluta, "Benvenuto!". Ti eri dimenticato di aver installato la sua app, anzi, stavi per disinstallarla a favore di un gioco di tuo figlio.
E invece no, sembra interessante, il tuo negozio ti premia per la tua visita: un buono da spendere a fronte di una spesa di un tot di euro. Immagina anche di aver scritto la tua lista della spesa nella sezione, per esempio, "La mia spesa di oggi".
Entri nel negozio. Hai fretta, è tardi, sei in ritardo, i bambini scappano ovunque. Bliiin…. "Bentornato! Clicca qui per accedere alla lista della tua spesa di oggi".
Soprattutto, immagina di venire guidato, grazie ai beacon, tra i reparti. Risparmi tempo, scopri le promozioni e gli sconti, è tutto più semplice. Anche i punti fedeltà vengono immediatamente visualizzati e poi caricati in cassa.
L'obiettivo è di avere questi messaggi personalizzati per ogni consumatore per migliorare ulteriormente l'esperienza di acquisto.
I tassi di conversione sono molto più alti con l'utilizzo della tecnologia iBeacon rispetto alle tradizionali campagne di display advertising su web e tramite newsletter.
Uno studio condotto dalla piattaforma Swirl ha rilevato che il 73% degli acquirenti che hanno ricevuto un messaggio di beacon-triggered sul proprio smartphone ha confermato che ha aumentato la probabilità di effettuare un acquisto nel corso di una visita nel negozio, mentre il 61% ha dichiarato che il messaggio li ha spinti a visitare il negozio più spesso.
To Beacon or not to Beacon?
Noi ci crediamo, è questione di tempo.
Per maggiori info, contattateci.